In the supermarket, vegetable nutrition plays an increasingly important role on the shelf. Consumer needs are growing. In order to be able to respond adequately to this as a retailer, de Smaakspecialist has developed a successful vegan module. The first national retailer has started since week 47.
"As an organization, we are constantly working on the development of the range," says Pieter Dirven of de Smaakspecialist. "The starting point is that all products are organic and free of added refined sugars. In addition, 90% of the total range of own brands is now vegan. This all fits with a sustainable lifestyle and the needs of the consumer and retailer for responsible and functional food. Within retail, we integrate vegan into the existing bio-range within the current shelf or through the implementation of a separate vegan module. "
Wide range of products and brands
Based on years of product and market knowledge, the 1, 2 or 3 meter module was developed by de Smaakspecialist. This is supported with a clear signing on and in the shelf. In this way, attention is focused on the shelves in the store and the customer is well informed about the different categories within the module. There is a wide range of product segments and brands that directly meet the needs of consumers. Products such as rusks, crackers, protein substitutes, gelatin-free sweets and unique products such as vegan fond and vegan gravy are included on the shelf. In short, a variety of products in very different segments that ensures a complete range. Also for the necessary extra vitamins (such as B15) minerals and proteins products are included in this shelf.
What is veganism?
Veganism is a lifestyle where no animal products are used. Vegans eat pure vegetable food. In addition to meat and fish, no dairy, egg or honey is consumed. Besides the vegan there is a fast growing group of consumers who eat vegetarian or flexitaric food. Vegans extract nutrients such as proteins, calcium and iron from vegetable sources such as dark green leafy vegetables, broccoli, legumes, nuts, seeds and soy products.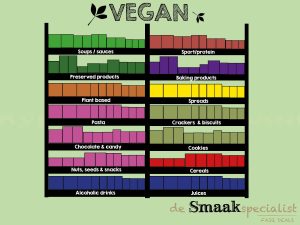 About de Smaakspecialist
De Smaakspecialist is a social venture with a mission: making healthy food accessible to everyone. In addition to the healthy and organic product range, sharing knowledge and inspiration plays an important role in this ambition. The impact of projects like KidsProef, Organic Kitchen and BioProeflokaal make a substantial contribution here. In addition, the organization inspires millions of people every day with tasty and healthy products. This has been established with the brands Smaakt, BioToday, RAW Organic Food and Goodlife.